Hios BLG-5000BC1 Electric Driver | 0.2-1.2Nm
£550.00 (exc VAT)
(£660.00
inc VAT)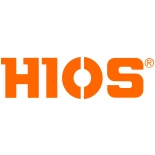 Product Information:
Brushless motor for less maintenance, longer life and less pollution
New Two -way start, lever or push to start
Easy Torque adjustment
Auto shut off
Output Torque Range: Nm 0.2 - 1.2, lbf in 1.7 - 10, (kgf cm) (2 - 12)
Speed Hi 1.000 Low 690rpm
Screw Size: Small Screw Size 2.0 - 3.0mm Tapping Screws 2.0 - 3.0mm
Torque setting stepless
H5 & 5HEX or 1/4HEX
New Features To This Range
You can control the screw tightening count with one hand (1 to 99 screws).
Faulty tightening can be detected (e.g., incomplete tightening, jamming, cam-out, stripped screw hole, etc.).
A buzzer and LED warn pass/fail every time a screw is tightened.
It prevents human errors in operations! Supports accurate screw tightening and reduces the operator's fatigue.

*For our wider range on Electric Screw Drivers please visits K:Industrial*
Frequently bought together